>> Sunday, September 7, 2008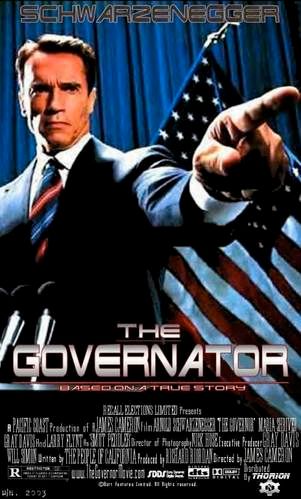 Ay mis ojitos! *snif* *snif* El día de hoy un amigo organizo el "Maraton del Governator" en su apartamento, el cuál se trato de la proyección de varias peliculas famosas de Arnold Schwarzenegger, o como lo llamamos mis amigos y yo "El 'negger" Que ya ven como cuesta pronunciar el apellido.

Entre las que vimos estaban las clasicas Terminator 2: Judgment Day, Commando, The 6th day, etc.

En fin, como ya sabran estas peliculas estan llenas de lineas, frases, citas (como las quieran llamar) clasicas que se hicieron famosas en la boca del 'negger. Asi que aqui les dejo mi Top 5 de "Lineas famosas del 'negger"






#5 Total Recall (1990) - Screw you!

El juego de palabra en esta linea está genial. To screw significa atornillar pero también significa jodete asi que "screw you" espero lo entiendan.





#4 True Lies (1994) - You're fired

De nuevo otro juego de palabra "you're are fired" significa "estas despedido" Por cierto si no han visto esta pelicula (aunque creo que ya la spoilee xD) deverian de hacerlo, hay una escena con Jamie Lee Cutis que no se la pueden perder.





#3 The Terminator (1984) - I'll be back

Y valla que volvío xD Esta fué la primera vez que esta linea fue escuchada en la saga de Terminator.





#2 T2: Judgment Day (1991) - Hasta la vista, baby

Que les puedo decir, la más reconocida y famosa linea de la más famosa pelicula del Governator, pero porqué no es la numero 1?





#1 Predator (1987) - GET TO THE CHOPPA!

Simplemente histerica es como catalogo la escena y la linea "NOOOOO!" "RUUUUUUUUUUN!" "AAAAAAAAH!" "AAAAAGH!" "RUUUUUUUUUUUUUUUUUN!" "GOOOOOOOOOOOOOO!" "GET TO THE CHOPPA!!!" Me parto cada vez que la veo JAJAJAJAJAJAJAJA


Allí lo tienen mi Top 5, espero les haya gustado y si no Go fuck yourself! Jijiji xD nah solo bromeo.